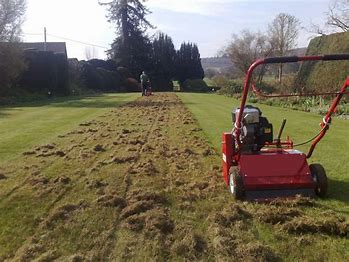 SERVICES
Scarification
WHAT IS LAWN SCARIFICATION?
Lawn scarification is a mechanical raking process that removes the layer of thatch and dead moss from your lawn. We are able to adjust the depth on the machine so that as much or as little thatch and moss can be removed. This is a labour intensive job whereby the years of build-up and decline of your lawn can start to be undone. The lawn may look worse after the treatment but it is an essential part of a lawn care treatment plan.
WHY DO YOU SCARIFY THE LAWN?
You scarify lawns to remove a build-up of dead moss and thatch that lies over the top of the soil near the grass roots. By removing the thatch, you allow the grass space to grow. The thatch and dead moss can lie between 12 – 20cm deep on top of the soil, stopping water, air and any lawn fertiliser reaching the roots of the grass.
WHAT IS THATCH?
Thatch is a natural build-up of dead leaves, dead and living grass, moss and root stems that build up between the base of the grass and the soil bed. A small layer of thatch is considered healthy in the lawn care industry, however, when lawns with a thick layer of thatch it can affect the health of the grass.
HOW OFTEN SHOULD YOU SCARIFY THE LAWN?
We recommend scarifying the lawn when the grass is actively growing to allow the lawn to recover quickly. We carry out the majority of lawn scarifications during early autumn – September and October; however, we can also do them during the spring months as well.
WHAT HAPPENS WHEN YOU SCARIFY MY LAWN?
The process that we follow for scarification is:
• Moss/Weeds are treated to reduce prior to scarifying
• Scarification removes dead moss and thatch
• Lawn is spiked to make holes in to aerate and provide holes for seed to grow in
• In some case a turf dressing (sand/soil) mixture is applied to cover seed, fill in hollows and improve soil quality.
• Finally an Autumn Nutrient Rich Organic feed is applied to improve recovery and that dark green colour we strive for
• If opting for the organic approach, an enzyme is sprayed to eat away at the thatch
DO I NEED TO PREPARE BEFORE MY LAWN IS SCARIFIED?
Ideally we carry out scarification's on short dry grass. If you have weeds in your lawns, then we do advise that these are treated before we scarify. Scarification can remove creeping lawn weeds, however, this isn't a permanent solution so spot weeding is advised.
Good soil moisture is the final part of preparation. If the soil is too dry and too wet then the scarification will not be successful so we would recommend putting the treatment off until conditions are correct.
If you have a build up of thatch on your lawn and would like it to be scarified, please do send us an enquiry.