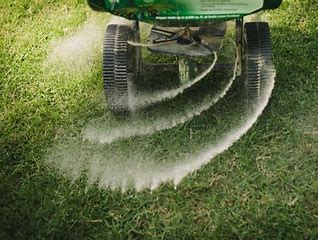 SERVICES
Spring Fertiliser
Spring is a fantastic time of year, with new life coming through with spring flowers and blossom on the trees. There is no better time to embark on a lawn care treatment plan for the year ahead, as your lawn will be in need of a pick me up. Your lawn will always need an application of a spring fertiliser to replenish nutrients. washed through the soil over winter. A spring fertiliser will stimulate new growth and improve it's colour.
Our specially designed fertiliser with additional nutrients, will release nutrients slowly to match the needs of your lawn to ensure a steady, but not excessive growth, whilst at the same time improving its colour to a verdant green.

WHY APPLY A SPRING FERTILISER?
The best lawn care feed to use in the spring is a high nitrogen feed that will stimulate growth in your lawn in a control and balanced way, as well as starting to make the grass look lush and green!

WHEN TO APPLY A SPRING FERTILISER?
We start applying the spring fertiliser from the end of February/ the beginning of March weather dependent.
We also apply a Weed Control treatment, but this is carried out as a separate "sprayed" treatment, as this will always give better results, versus weed and feed granules purchased from a garden centre.