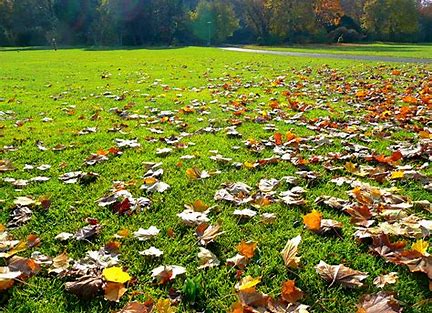 AUTUMN FEED
This feed is a very important part of any lawn care programme.  Feed with a fertiliser high in Phosphate and Potassium with additional Iron for that dark green look.
Aeration + Over Seeding To Improve Grass Quality
Soil compaction is a frequent cause of turf deterioration and moss invasion so we recommend aerating in Autumn/Winter; over sow with seed to help any bare areas re-establish before weeds and moss do!
Worm Casts
This month will probably see the appearance of worm casts (small mounds of earth brought to the surface by worms). Treatments can be applied to stop the casts occurring in the first place.
Patio/Drive/Gravel Weeds and Moss
Autumn rains have brought a flush of weeds.  Our industrial strength treatments can rid these areas of weed and moss
Actions required in Autumn
• Autumn Feed/Moss Control - Improves colour and controls moss
• Aerate (Deep Spiking) of lawn - Relieves compaction and prepares soil for sowing extra seed
• Worm Casts - Brush off when dry or treat with a pesticide
• Weeds/moss on hard surfaces - Spray with a total herbicide and a NEW moss treatment product

Some of the above tasks can be carried out by the lawn owner; other tasks may need some professional intervention.
Call Paul on 07748 476447 or contact us here.
Lawn Fact: "The root mass and microbes in turf grass acts as a filter to capture and break down many pollutants to help purify water as it enters the aquifers".
ENQUIRE ABOUT OUR SERVICES BY CLICKING HERE.